Hall of Fame, Inc. Annual Membership
Are you a Hall of Fame Lifetime Member - Charter or Builders Club Lifetime Pass?
Engage in Packers History all year-long with a Green Bay Packers Hall of Fame membership.
According to the terms of your original Lifetime Membership, you are entitled to free Hall of Fame admission for the person named on the membership card.
Since you already receive free Hall of Fame admission as a part of your Lifetime Membership, we would like to offer the opportunity to add on the Annual Membership at the reduced cost of $40 (+tax). This is a savings of $25 on our regular Individual Membership pricing.
When processing your Annual Membership, Hall of Fame staff will cross reference and verify your Lifetime Membership.
Membership Options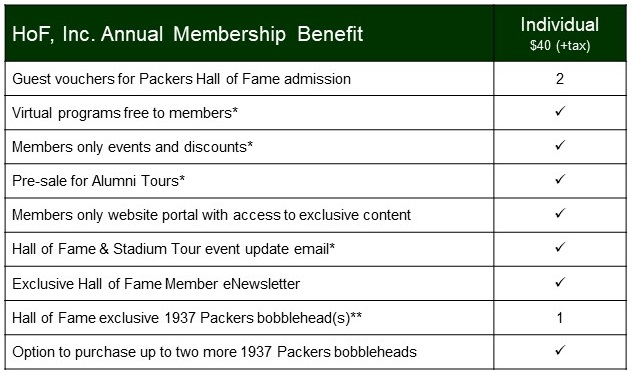 *Based on availability
**Bobbleheads should be picked up in person. Vouchers for bobbleheads will be mailed with your membership package. If purchasing your membership in person, you can redeem your vouchers right away. If purchasing your membership online, you can redeem your vouchers on your first visit. If you would like your bobbleheads mailed directly to you, an additional $15.00 fee will be added to your total. Additional shipping rates may apply to orders outside of the contiguous 48 states.
Buy Tickets