June 2023
The Bicycle Tradition
Most traditions evolve, starting suddenly and slowly capturing the imagination of the masses. This is certainly true of the Packers' bike tradition. It's a tradition like no other in the National Football league and dates back to the1950s. However, its exact origins have been mythologized and remain a mix of legend and truth. Team historian Cliff Christl continues to investigate this topic. You can learn more about the evolution of our understanding of this tradition by taking a peek at some of his articles linked below.
Packers training camp memory: The start of the bike tradition
Tracing the roots of players riding bikes
Does anybody know when the Packers started riding bikes?
To pay homage to this part of the Packers fandom, we have updated our Community Gallery to reflect the significance of this unique experience. We invite you to explore the history of the tradition and then take a photo with LeRoy Butler on his bike, like you would have done in the 1990s.
Brent Hensel, Packers Hall of Fame Curator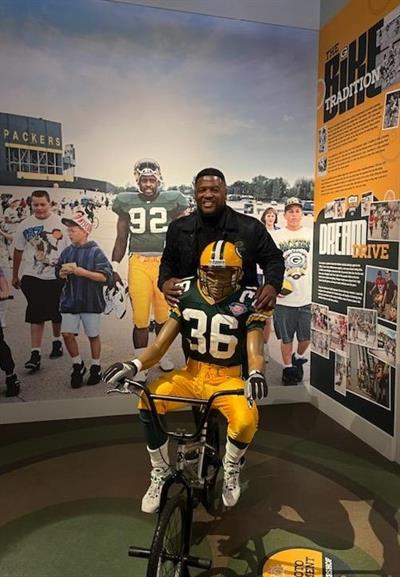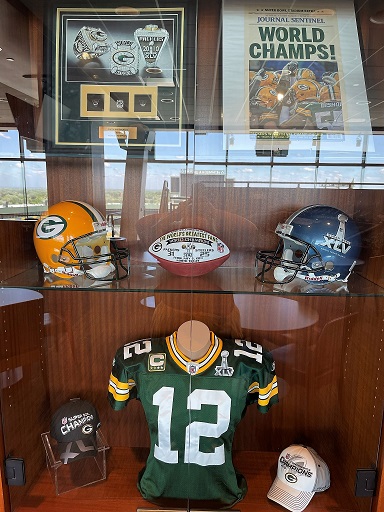 July 2022
Packers History Outside the Hall of Fame
Preserving Packers history in Lambeau Field goes beyond the walls of the museum. There are several other spots throughout the stadium which the Hall of Fame is responsible for.
One of these spaces is the Champions Club, located in the south end zone. On game day, this space is reserved for premium seating ticket holders, but the rest of the year it is used for events and for Stadium Tours.
Aptly named, this club space celebrates the Packers 13 championships. Replicas of historic jerseys line the walls, and stories from championship games are displayed throughout the room. We also stock a couple of cases with memorabilia from these legendary moments, including jerseys, helmets, footballs, and more!
Brent Hensel, Packers Hall of Fame Curator
March 2022
Museum Upkeep
Each year, as the season draws to a close, the Hall of Fame team assesses the wear and tear on our space and works to make sure the museum is bright, shiny and clean for the next season of visitors.
On March 7-8, we will be temporarily closing the Hall of Fame for a couple of days to do a deep clean of the space. We work closely with our amazing facilities and housekeeping crews to spruce up every inch of the museum: painting, polishing, repairs, vacuuming, dusting, etc.
We also take this opportunity to check on the condition of all of our artifacts, replace the desiccant bags that help absorb humidity and make sure our cases are free of dust and other particles.
We want to ensure that our guests have the best experience possible and part of that is about taking pride in and maintaining our space. It also makes for a great team building opportunity for our staff.
Brent Hensel, Packers Hall of Fame Curator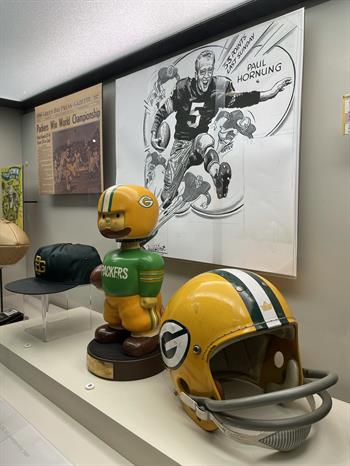 October 2021
Permanent Gallery Updates
Each year, as the regular season rolls around, the Hall of Fame takes the time to rotate out a few artifacts in each gallery. The Hall of Fame and Hall of Fame, Inc. collectively have over 80,000 items in the archive. Although the content and theme of our permanent galleries doesn't change, I work annually to exchange a few items, so our visitors are always getting to see something new.
Rotating items also helps to preserve our artifacts for future generations. There are many factors that contribute to the deterioration of artifacts. Artifacts are more likely to encounter these elements while on display, so it is important to the "rest" them to avoid elongated exposure.
Some of the new artifacts on display include:
The football Aaron Rodgers threw for his 400th career touchdown pass to Davante Adams on December 6, 2020.
A 1919 worker's badge from Indian Packing Company, the team's original sponsor.
A vintage briefcase that was given away to the press covering the 1967 NFL Championship game, better known as the Ice Bowl.
See if you can spot any other updates on your next visit!
Brent Hensel, Packers Hall of Fame Curator
April 2021
Current Artifacts
One of the questions we get most frequently is about how we collect items from the current season. Our team and our players are constantly "making history," and it is our job to make sure the museum reflects that.
Throughout the year, and especially during the season, I work to keep track of significant moments and records. I work closely with football operations and our equipment staff to connect with players and make arrangements for them to donate artifacts. Ultimately, players have the final say on whether or not to share their items with us. Many players have been very generous. This season, we were fortunate enough to receive several artifacts, including, but not limited to:
AJ Dillon's jersey from the December 27th matchup against the Tennessee Titans, during which he became the youngest player in team history to post over one-hundred rushing yards and score two or more touchdowns.
Robert Tonyan's gloves from the Monday Night Football game between the Packers and Falcons, in which he scored three touchdowns.
All of these items are currently on display in the Hall of Fame's Current Artifact Case.
Brent Hensel, Packers Hall of Fame Curator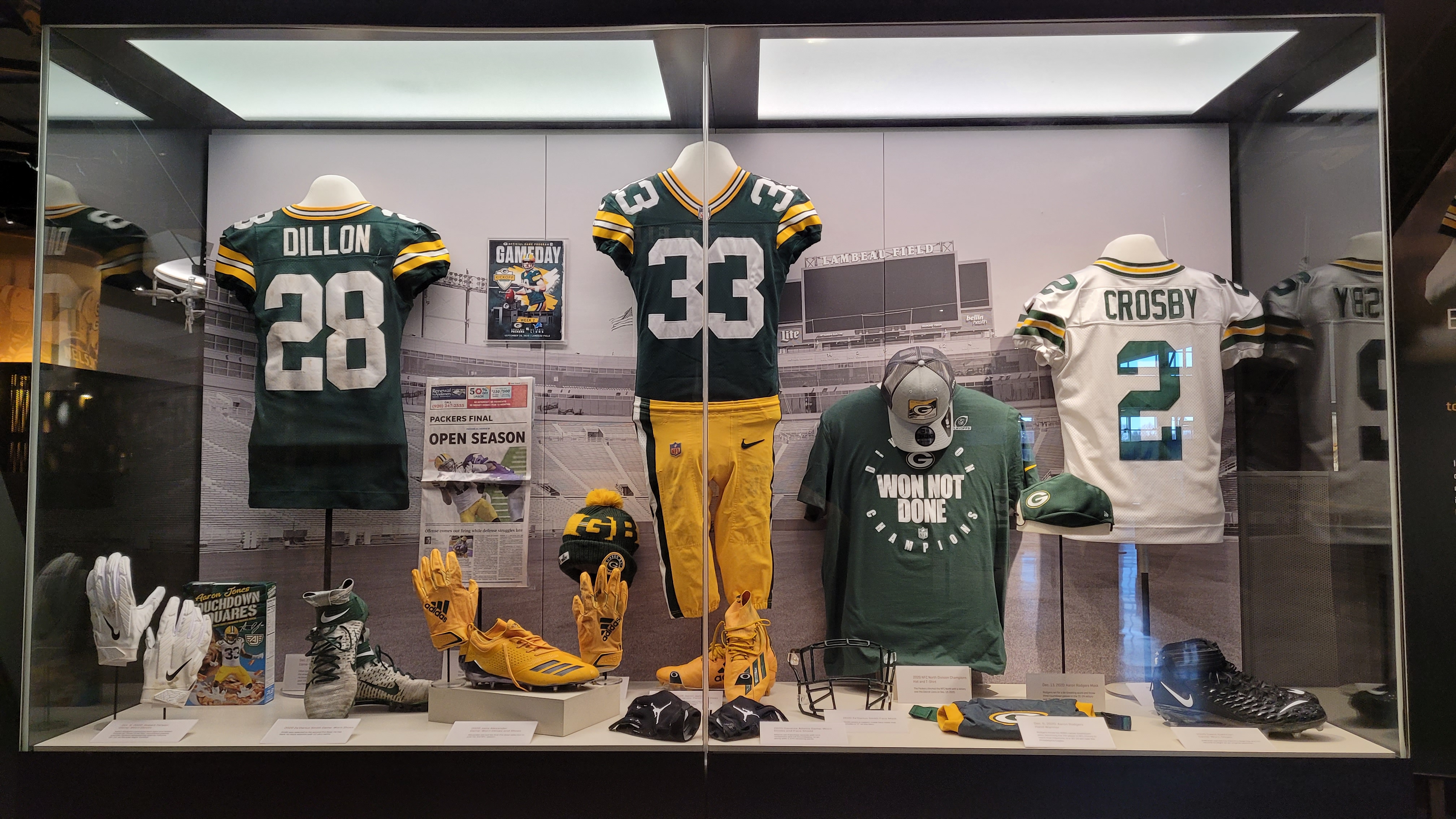 Buy Tickets